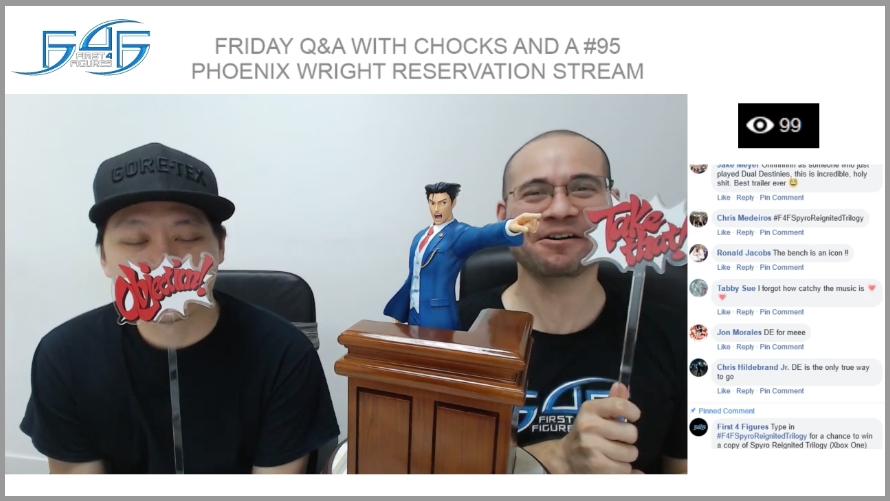 This is a breakdown of the important (and not so important) topics of last Friday's (23 November 2018) Friday Q&A with Chocks and A #95.
---
REMINDERS
PHOENIX WRIGHT pre-orders will open right after this stream, followed by the re-opening of pre-orders for MARSHALL LAW! Scroll down for more information.
The HORNET RING from the F4F x TORCH TORCH partnership is still open for pre-orders until 12 December 2018.
Still open for pre-orders until further notice:
WEEK IN REVIEW
Activision was kind enough to provide First 4 Figures with ten (10) copies of their all-new Spyro™ Reignited Trilogy video game (5 PlayStation 4 copies and 5 Xbox One copies), and F4F is giving these away! Read More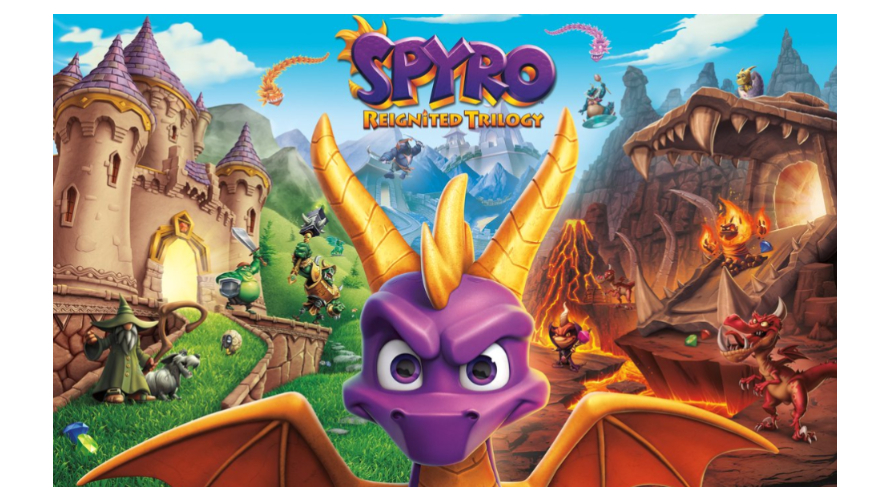 Production videos are now uploaded on First 4 Figures's main Facebook page, Instagram account, and YouTube channel.
There seems to be a lot of activity as well in First 4 Figures's Twitter account.
Since PAX East fell through, F4F is now looking into Emerald City Comic Con this March 2019. So far, the feedback from the organizers has been positive, so fingers crossed.
Thinking of revisiting New York Comic Con in October/November 2019 instead of Lucca Comics & Games since Alex dislikes the latter's layout
Alex is also looking into ChinaJoy 2019 as he feels there is an untapped market in China.
Alex wants to take advantage of the flow they've been having with the website updates. If you have any suggestions, please leave a comment in the comments section below.
Not much difference with the 1.0 and 2.0 Kingdom Hearts character poll; Alex isn't sure why that is so when Kingdom Hearts received a significant number of votes in the Disney poll
Shoutout to Aniplex USA and Vic Mignogna for bigging up First 4 Figures's Alphonse Elric Regular Edition (Silver Variant) at the Special Panel over at Anime NYC!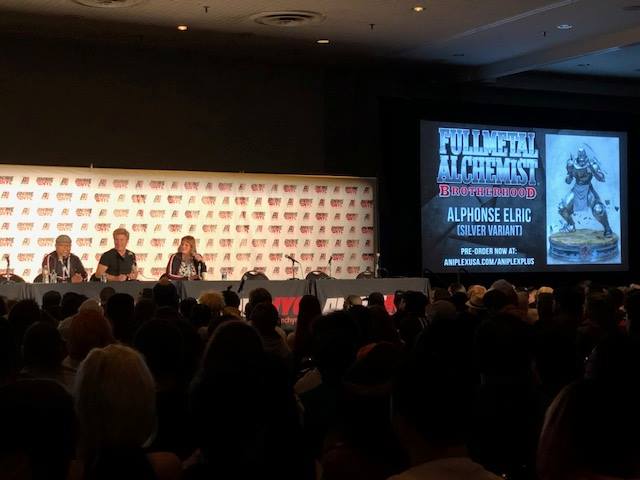 Furthermore, First 4 Figures is happy to be making the collector's coin included in Right Stuf Anime's Fullmetal Alchemist Brotherhood Blu-ray Box Sets! Are the coins something you'd like to see F4F include in some of their future releases? Let them know in the comments section below.
TEMPTATION THURSDAYS (TT) POLL
Last week's Meliodas from The Seven Deadly Sins series TT Poll #127 Results: 248 YES votes / 185 NO votes
This week's Caim from the Drakengard series TT Poll #128 Results: 57 YES votes / 122 NO votes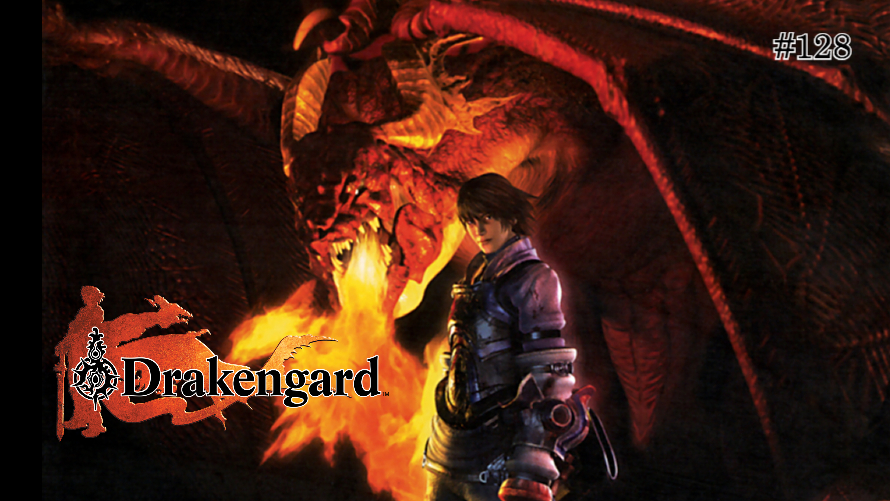 Next TT polls will be (in this order): GUACAMELEE ➔ FAIRY TAIL
The three winners of last week's #F4FPW are SHAWN C. MACHIE, JENNIFER PRIESTER, and PETER DECKER.
This week's hashtag is #F4FSpyroReignitedTrilogy for a chance to win 500 reward points.
Mentioned in the past redoing the Gears of War TT poll but never got around to doing it
CONCLUDED –

Match #3

: Sword Kirby with 634 votes vs. Jin Kazama with 359 votes
ONGOING – Match #4: Breath of the Wild Link PVC with ~1.1k votes vs. Zero Suit Samus with 231 votes
NEXT WEEK – Match #5: Ganondorf vs. Optimus Prime vs. Megatron
With the conclusion of Match #3, only one entrant remains. Congratulations, ROSE PESIRI, for being the last woman standing! However, with the current results of Match #4, the odds are highly against her favor. She predicted Zero Suit Samus to win, but Breath of the Wild Link PVC is in a massive lead.
If Rose is eliminated, then that will be the end of King of the Ring Tournament #2. A new one will take place in a couple of weeks.
Could give Rose Pesiri and Marcos Navarro (last man standing of KotR Tourney #1) a consolation prize of 1,000 reward points each; congratulations to the both of you!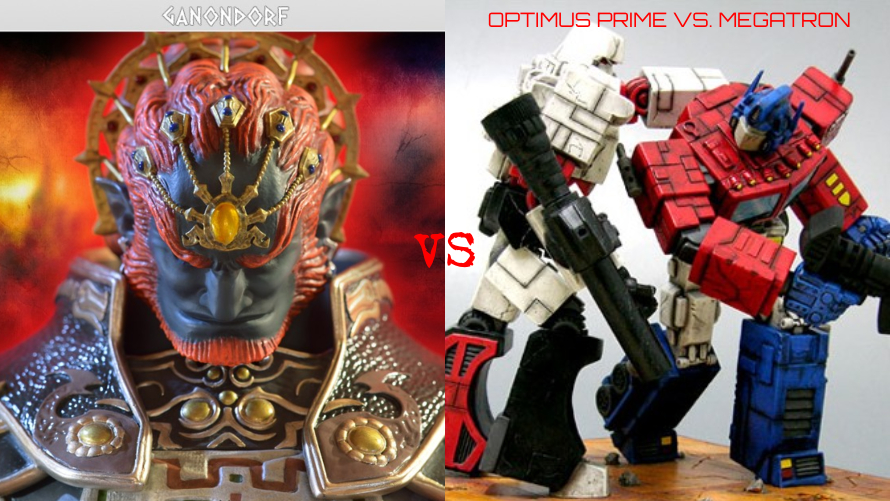 PRODUCTION VIDEO UPDATES
(NOTE: You need to be a member of the Official Collectors Club to view some of these videos.)
CHARACTER & PRODUCT LINE UPDATES
SPIKE SPIEGEL UPDATE: Almost at that point to close pre-orders; eye shape tweaked; hand in pocket looks more realistic; material of cigarette changed to metal
CRASH BANDICOOT UPDATE: Arrived in the office for final inspection; soon to be shipped out to Australasia; passed Alex's dreaded drop test
SHOVEL KNIGHT UPDATE: Player 2 variant to go live in the next couple of weeks; part of the companion piece concept, so it isn't necessary to purchase this to retain your statue number in the Shovel Knight line; color variants will also include the Fish Head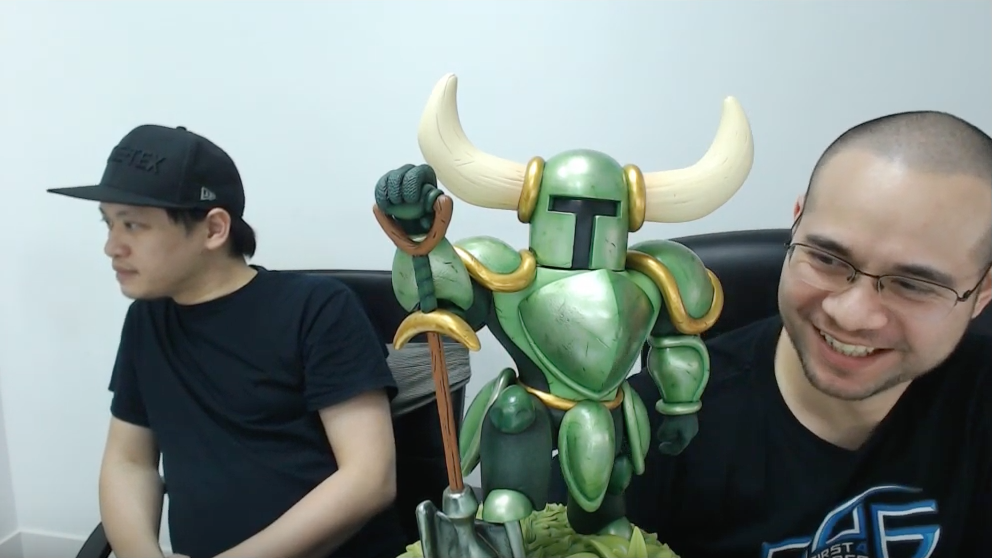 VARIA SUIT UPDATE: Alex happy with the pre-production samples now compared to what it looked like two months ago; though very difficult to produce, it would be a disservice if Varia Suit didn't light up; estimated to finish production in January 2019
AMATERASU LIFE-SIZE BUST UPDATE: A big improvement compared to what it looked like in production a month and a half ago; factory still very slow
Nightmare and Silver the Hedgehog in the same factory as Amaterasu Life-Size Bust
AMATERASU PVC UPDATE: Had to remove the head of the tooling model to avoid the tooling lines along and across the face; separated head still follows the hairline so that it still looks natural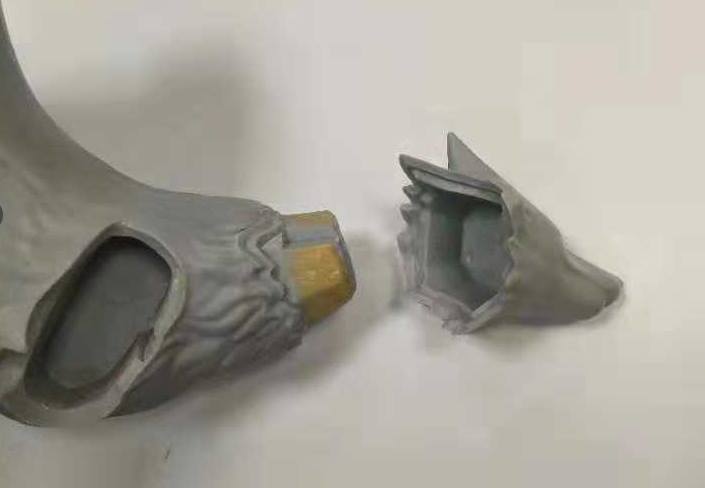 Alex's tee-hee of the week: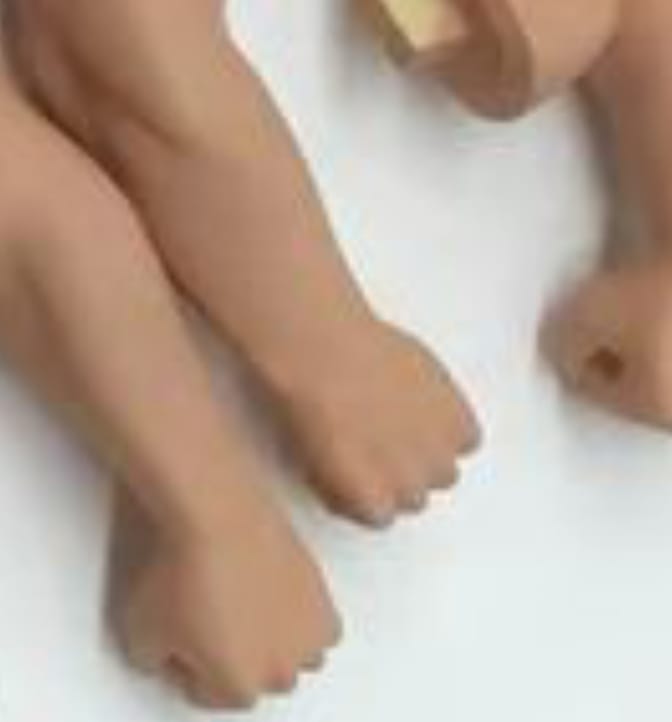 SPYRO OG PVC UPDATE: Based on the Ripto's Rage video game cover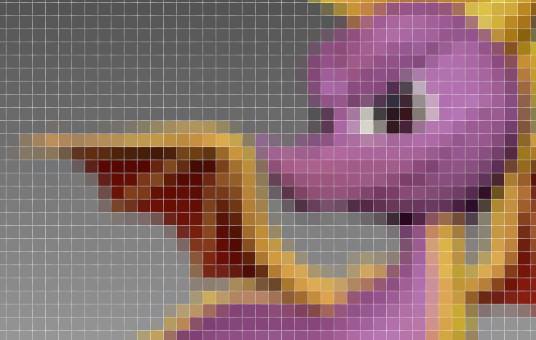 SPYRO (REIGNITED) PVC UPDATE: Color variants based on the color cheats codes won't just be one solid color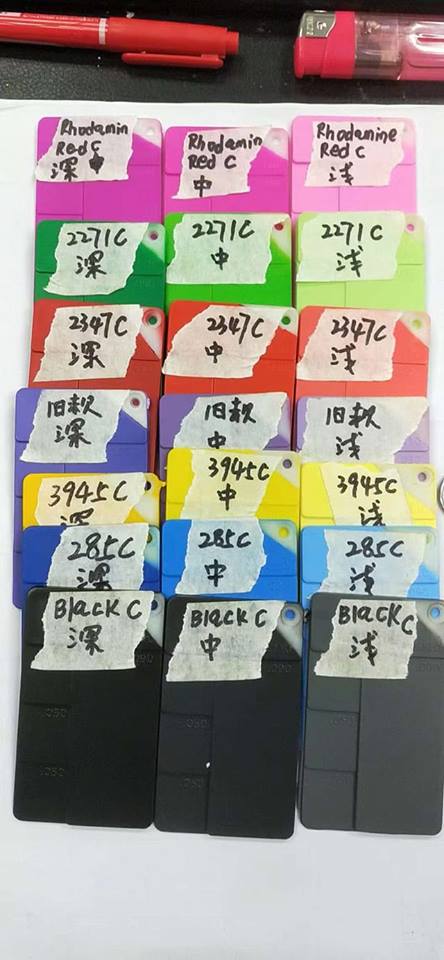 MINI AKU AKU UPDATE: To go up for pre-order once Crash (Resin) is out in the marketplace
METAL GEAR UPDATE: Coming to the point wherein they can start doing other lines
No "Kickstarter" news
JET BLACK UPDATE: Still estimated to go up for pre-order this year
NINTENDO UPDATE: Alex knows what the next PVC will be; estimated to go up for pre-order in Q1 2019
BAYONETTA UPDATE: Design based on the first game
CRASH BANDICOOT™ UPDATE: Something interesting in mind with the next PVC
Hype weeks in the Club are now three weeks long beginning Teaser Friday
No Yakuza updates
MIMIC UPDATE: Unsure if it will go for pre-order this year or early next year
Still some pending Day One card polls for past releases
MINI FIGURES UPDATE: Will be a long while
SONIC AND TAILS DIORAMA UPDATE: Duplication is taking time
Still some pre-orders left in 2018
No Genos news
GRAVELORD NITO UPDATE: In the duplication stage; will find out then how to go about the statue's legs
CHIBITERASU UPDATE: Needs to be looked at more
OKI WOLF FORM UPDATE: Been on the back burner; need to go back into that
ALPHONSE ELRIC UPDATE: "Gold bars" update next week; sales heading towards the right direction; Alex not as worried now as he was during the first week of launch
More noticeable advertising campaigns for anime lines
EDWARD ELRIC UPDATE: Unlikely an April 2019 pre-order
ROY MUSTANG UPDATE: At the same stage in development as Edward Elric; it's possible that Roy Mustang could go next
Nothing to share for the Fullmetal Alchemist Brotherhood line past Edward Elric and Roy Mustang
Not possible to change original orders with color variants released later on
Castlevania: Lord of Shadows is its own line.
From now on moving forward, Regular Editions are now called Standard Editions to keep things consistent with their PVC lines.
PHOENIX WRIGHT LAUNCH
1/6th in scale
Based on the Dual Destinies title since that was the game that came out during the beginning of development
More details on Phoenix Wright as a result of basing the design on Dual Destinies
The pose was always going to be the iconic pointing pose. There was no need for Alex or Chockles to contemplate on it.
The clothing helped a lot in giving the character a sense of movement and confidence.
Was a challenge as creators to cross the uncanny valley when it came to the details of the suit
Inner portion of the pointing sleeve to be darkened to give a sense of shadowing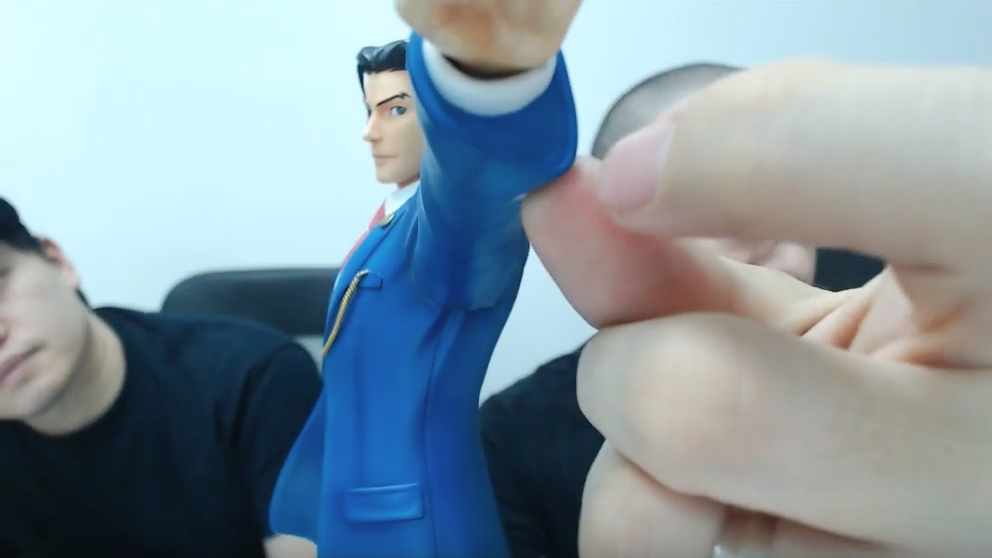 Clothing properly layered to give a "3D-ness" to it
More gloss to the shoes than the clothing as it should be
Intense expression because he's objecting; eyes also have circles in them that are accurate to the source material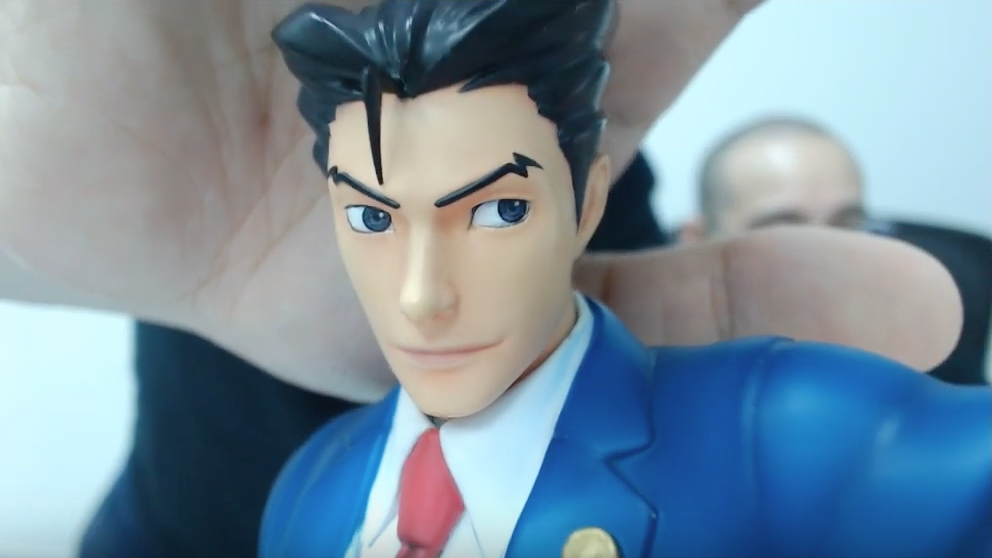 The hairstyle was a nightmare to sculpt, but Capcom was very helpful with the design of this. They're also considering using metal for the single strand of hair as it is a very fragile piece, though it is still subject for approval.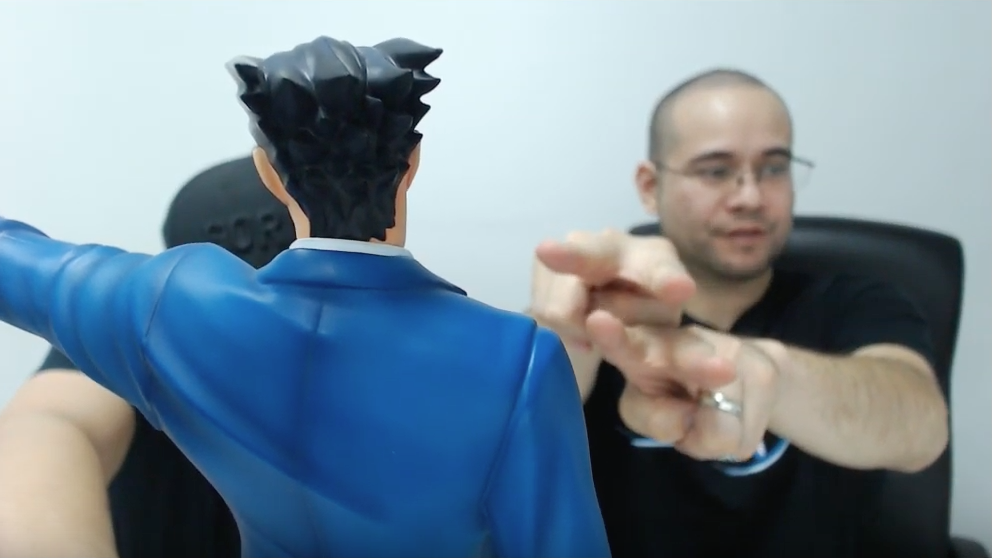 Hair won't be completely black; has a touch of purple to it
Top half and bottom half of the statue are separate to give it clean lines all throughout during painting
Brown base to represent a gavel, and on the top are the courtroom tiles from the game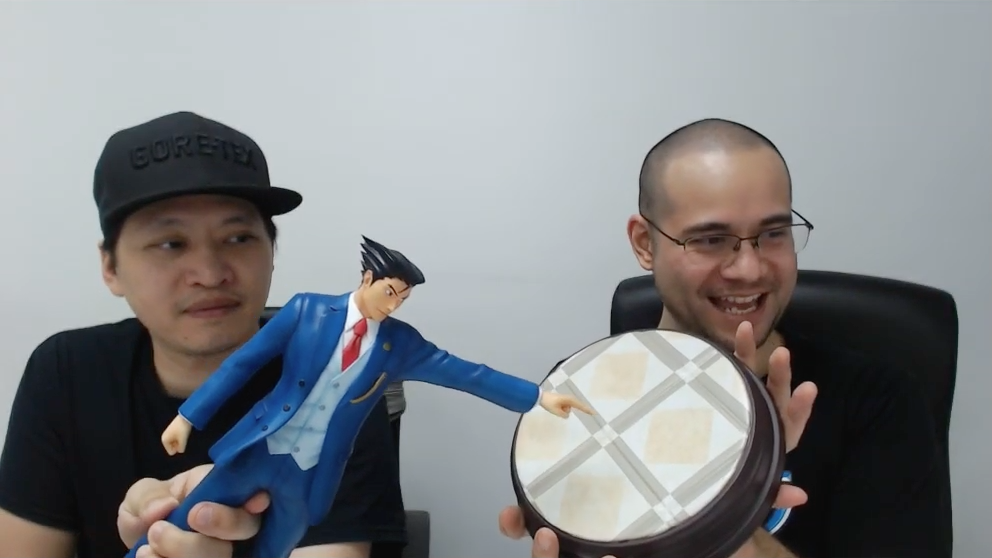 The Exclusive Edition comes with an interchangeable head.
The Definitive Edition comes with the inclusions of the Exclusive Edition plus a second base with the defense bench on it and the "Take that!" and "Objection!" speech bubble acrylic stands.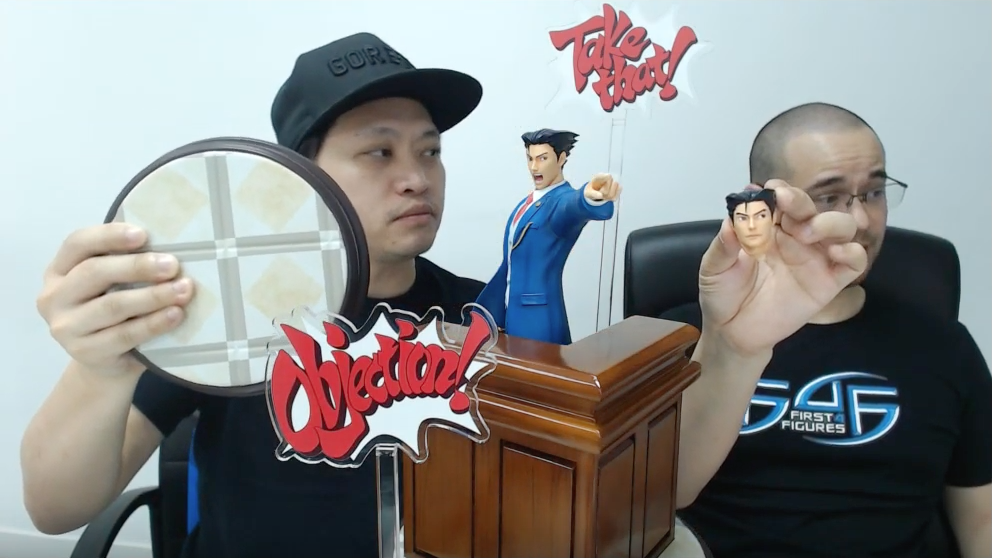 Defense bench base bigger in circumference than the standard base
Give them "ten gold bars", and they can consider adding a third "Hold it!" speech bubble acrylic stand.
Standard and Exclusive Edition SRP: 229.99 USD + shipping
Definitive Edition SRP: 299.99 USD + shipping
The sales will ultimately determine if there will be a next statue in the Phoenix Wright: Ace Attorney line.
For more information on Phoenix Wright and how to place your pre-order, kindly click HERE.

First 4 Figures is giving away one (1) Phoenix Wright (Exclusive)! Read More

OTHER TOPICS
No point in having a grand resin reveal if no one is there to buy it; PVCs will attract more people into the Club with their price point in hopes of one day buying their first resin from F4F
Alex loves the expansion side of running a company and thinking of ways to come up with new product types and attracting new customer bases.
Alex was fortunate enough to never have thought about what he wanted to do in life as he was already involved with First 4 Figures during his days in the university.
It would take a lot (of I don't know what) to see the Vaulted Pokémon statue.
No statue test for cold weather, though no one has complained about their F4F statues shattering due to the cold
Alex is not convinced Fusion Suit Samus is popular.
Alex to clarify with the IT team on the feature of postponing due payments
Chockles tested out a bad game in the past and still got released.
Alex gives a game at least 1-2 hours before deciding whether or not he wants to continue playing it.
Doesn't seem to be much rallying for Metal Gear's Sniper Wolf
Website hopefully ready for Black Friday/Cyber Monday deals next year
Could possibly work on a list that displays F4F's factories and which ones are working on what statues
WHO DAT WHO DAT: This week's Who Dat Who Dat was postponed to make way for the Phoenix Wright product launch.

---
To view everyone's questions from the Q&A portion of this episode, please click HERE.
If you want to have your questions answered by our very own Chocks and Alex, simply search "Chocks and A" in the First 4 Figures Official Collectors Club Facebook group and leave your questions in the comments section of the most recent thread prior the upcoming live stream. This thread is posted every Thursday of the week.
If you wish to watch the entire video:
---
Last Update
2018-12-18 17:16:37